321 LOVE YOUR NEIGHBOR EVENT
Celebrating World Down Syndrome Day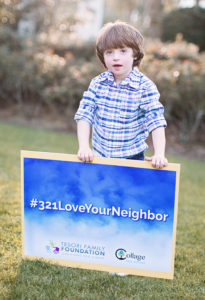 Our third annual 321 Love Your Neighbor event will be held at the The Church of Eleven22's Baymeadows Campus, the Tesori family's home church family.
Join us for a day of free family and fun surrounding each other with love and acceptance. The event will feature plenty of activities for kids and snacks for the entire family!
Oh, and don't forget your blue and yellow and crazy socks, both items synonymous with Down syndrome! Our friends at John's Crazy Socks has you covered! To order your socks, visit www.JohnsCrazySocks.com and use discount code ISAIAH at checkout to receive 10% off your order!