321 Love Your Neighbor Event
Celebrating World Down Syndrome Day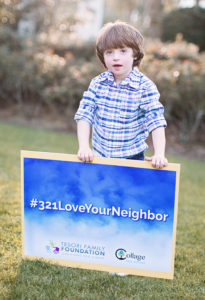 Join us for our inaugural 321 Love Your Neighbor event to celebrate the happiest chromosome on earth on World Down Syndrome Day, Wednesday, March 21st at 3:21pm at Collage Day School!
Hosted by the Tesori's dear friend and favorite local news personality Nikki Kimbleton, this FREE community awareness event will feature activities for the kiddos, food for everyone, surprise guests sharing 21 facts and myths about Down syndrome (genetically identified as 3 copies of the 21st chromosome — see, we gave that to you for free!), opportunities to freely ask questions with a fun Q&A, door prizes and more… but more importantly just an incredible afternoon to celebrate each and every special someone!! And yes, it's entirely FREE! Music provided by local budding artist Kay Gianna, kids games and entertainment provided by Bay & Bee and food provided by our friends at Pieology (Nocatee), What's the Catch food truck, Kona Ice and more. Special guest appearance by world-renowned advocate, actor, author and all-around incredible man, John Franklin Stephens who has most recently been recognized for his poignant and moving address to Congress on the topic of Down syndrome research where he enthusiastically proclaimed "I am a man with Down syndrome and my life is worth living!".
Our goal – get 321 people to attend (there we go again… sneaking in that whole 3-21 thing!), wearing your crazy socks and royal blue and yellow in honor of someone you love with Down syndrome. Or maybe someone you'll meet someone with an extra chromosomes for the very first time that day that you're about to love!  To register, CLICK HERE to make sure we have you counted as one of our guests and make sure you're registered for our cool door prizes!!
Don't have crazy socks? Don't worry, our friend John's got you covered! To order your socks, visit www.JohnsCrazySocks.com and use discount code ISAIAH at checkout to receive 10% off your order!
For more information and to follow along as we make announcements, visit our event page on Facebook.