321 LOVE YOUR NEIGHBOR EVENT
Celebrating World Down Syndrome Day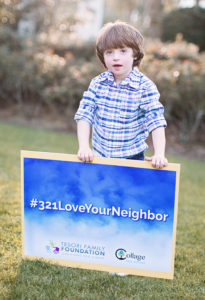 Stay tuned for details surrounding our third annual 321 Love Your Neighbor event in partnership with the The Church of Eleven22's Baymeadows Campus, the Tesori family's home church family.
We hope to be joined again by everyone's favorite speaker, world-renowned advocate, actor, author and all-around incredible man, John Franklin "Frank" Stephens who has most recently been recognized for his poignant and moving address to Congress on the topic of Down syndrome research where he enthusiastically proclaimed "I am a man with Down syndrome and my life is worth living!".
Oh, and don't forget your blue and yellow and crazy socks, both items synonymous with Down syndrome! Our friends at John's Crazy Socks has you covered! To order your socks, visit www.JohnsCrazySocks.com and use discount code ISAIAH at checkout to receive 10% off your order!