6 months old! Baby Isaiah Update
Posted on July 11, 2014 by admin No comments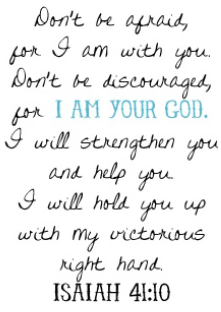 Can you believe it? 6 months old. Our little guy is growing up right before our eyes. He's such a fighter. He's enjoying life. He's certainly loved!
Before we give you an update on how our little guy is doing, I wanted to talk about the bible verse to the left. Before Isaiah was born, we talked about bible verses we wanted to put in Isaiah's room. We had soooooo many great ones! How to choose? This verse you see on the left was one of our favorites.
"Don't be afraid, for I am with you. Don't be discouraged, for I am your God. I will strengthen you and help you. I will hold you up with my victorious right hand." Isaiah 41:10
Don't be afraid. Seems like a simple command, right? Three little words. Before we truly gave our lives to God, I had a really hard time with this. Fear not. Well, lots of things would make me fearful. Day to day life is enough to make you fear outcomes, right? And then I met Paul, and together we truly found a relationship with Jesus. We were baptized (as adults, I had been baptized as a child, but Paul and I really wanted to declare our own faith as adults and show obedience through baptism) in 2010.  And we've experienced some of the hardest times of our lives since that day. God doesn't promise easy. He doesn't promise that from the day we ask for him to come into our hearts that we can just put it on cruise control. What he does ask us to do is to trust him. Trust that he is with us. Trust that He will strengthen us. Trust that He will hold us up with his victorious right hand.
God has used these situations in our lives, particularly the birth of Isaiah, to reassure us that our faith is exactly where it's supposed to be — in our heavenly father.  Please don't misunderstand – when we heard that there were problems with Isaiah's health, we were scared for our son. Our hearts hurt for him. We never, not for one second, want our sweet baby boy to suffer one ounce of pain. For those of you who are parents, you know what I'm talking about! But we can feel all of those things and still have faith in God. Faith that He knows what's best, faith that when we are scared or discouraged, He will strengthen and hold us up. Faith that HE IS WITH US. Always. Our hope is that you'll find that faith in your lives. That regardless of the journey you are on, as humans, we're going to be afraid and sad and discouraged and overwhelmed, but that you find that peace and comfort in knowing that you can give those fears to God, the ultimate healer.
Onto the little guy.  You know we love talking about him. So Isaiah had his 6 month check up this week. And we have HUGE news to share. Isaiah has always been in the 90th + percentile for height (I know… those of you who know me are going "what???". It's true!) and hovering around the 50-60th percentile for weight. At his 6 month check up, our pediatric nurse, Raley, with tears strolling down her pretty face, told us that Isaiah's 14 lbs, 5 ounces puts him in the 90-95th percentile for weight! Remember: Isaiah gets measured against the Down syndrome population on a special growth chart, so don't try to compare him to your 6 month old at home and worry that your little guy/gal is too heavy! Ha! We've got our own special chart! This was really great news for us.
And it was all captured on camera. The Tesori Family Foundation has been chosen by the PGA TOUR to be the focus of a one-hour special to air nationwide on CBS on Saturday, August 2nd from 2-3 pm (set your DVRs now!). So Isaiah's 6 month check up was captured by our great production crew and we'll always have that moment to look back on and smile. They also captured all the other great news – Isaiah is right on track for a "typical" 6 month old baby. He's working on sitting up unassisted for longer than 3 seconds at a time (almost there!), he loves to stand up and bounce (this is a BIG deal in the world of Ds – making sure he's comfy putting pressure through his legs and using those little muscles to extend his legs!), and he's doing a great job with his body control and reaching and touching (look out if you're holding him – he's all into exploring eyes/mouths/nostrils with his little sharp fingernails!).  He's still as happy as ever, and particularly loves waking up at obnoxious hours (think 2:30 -3:30 am) to play in his crib, happy as can be. Hard to ignore that baby monitor, and we've been encouraged to shut it off, but I'm still THAT Mom that needs to just be able to hear him, see him, make sure all is ok in there. 🙂
So… we've got an especially picky eater on our hands. Avocados? No thanks. Mangos or apricots? Definite no. Applesauce? Not feeling it. Sweet potatoes? YES. YES PLEASE MAMA! This kid is definitely ours. Loves his carbs. Loves his sweet carbs. Who doesn't love potatoes? Ha! We're working hard to introduce any other foods, but not having much luck. If anyone has any suggestions, feel free to post below! He can't live on sweet potatoes forever! HA!
We continue to work on the new stuff that each of his therapists have suggested, and we're looking forward to seeing his geneticist in two weeks for another check up.
Onto foundation news – we've just officially opened Isaiah's Corner to the new moms and dads in NICU at Wolfson Children's Hospital. We stopped in this week with our friend Josh Scobee of the Jacksonville Jaguars. We've love for you to be a part of it. You can donate as little as $5 or as much as you'd like. Doesn't interest you? Maybe you want to partner with us to feed the awesome staff in the NICU savings the lives of those precious babies every day. You can do that on our website, too, just go to Operation Feed Wolfson. These are some super easy ways you can help us give back in the community. We're so honored to be able to help in these small ways that make a BIG difference. We'd love for you to be a part of it!
God bless, have a great week, and keep an eye on Paul and Webb as they head across the pond to the Open Championship! After that awesome finish at the Greenbrier last week, they're in a great place to tackle the weather and the challenge that is links golf!
---