[vc_row][vc_column][vc_column_text]You thought high school was hard? Well, so do we! That's why we've partnered with the St. Johns County School District (SJCSD) ASSIST program to provide laptops to graduating seniors who have overcome the homeless community, and will pack their bags this fall to head to college and/or the Military! We will celebrate these young people and their incredible accomplishments each June and this year we are thrilled to be hosting our event at the TRYP  by Wyndham Sebastian in St. Augustine  We're honored to support these courageous students for the fourth consecutive year in 2017.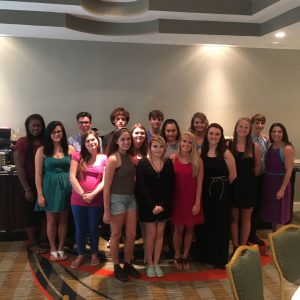 The A.S.S.I.S.T. (Aid and Support for Students in Sudden Transition) program is designed in part under the SJCSD, Student Services Department, to provide services to students and families who've lost their housing due to an economic hardship, a natural disaster or similar reasons. The program ensures students qualifying for the program are identified, immediately enrolled and provided necessary support to complete their education regardless of their living status.
In addition to the brand new laptops fully loaded with Student Microsoft Office, the graduating seniors enjoy a dinner alongside their most influential mentor.
We send a HUGE thank you to Gary Griffin for making sure the laptops are updated each year with the proper programs to help these students achieve greatness. Our celebration also wouldn't be possible without the TRYP  by Wyndham Sebastian in St. Augustine, who graciously offer to donate their venue and food for our Laptop Reception!
If you are interested in learning more about how you can partner with us to continue supporting these courageous students through college, email Kate Fraser at [email protected] for more details.[/vc_column_text][vc_column_text]
Laptops to A.S.S.I.S.T. Homeless Students
[/vc_column_text][vc_empty_space][/vc_column][/vc_row]