Rallying Around Isaiah
Posted on April 1, 2014 by admin No comments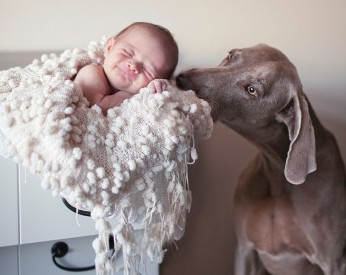 After their baby was born with Down syndrome, TOUR caddie Paul Tesori and wife Michelle have leaned on family, friends and faith
April 1, 2014
By Helen Ross, PGA TOUR
The contractions began early on that Friday morning in January. No worries, thought Michelle Tesori. She's the consummate multi-tasker, balancing her life as the wife of PGA TOUR caddie Paul Tesori with running
Olympus Foundation Management, a non-profit for pro athletes. So she decided to go into the office.
But after a lunch meeting, when the contractions were three to four minutes apart, Michelle called her doctor. The exam showed she wasn't dialated yet, so she headed back to the dark brown two-story home near Jacksonville, Fla., that she shares with Paul and their big gray Weimaraner named Hitch.
By 10 o'clock that night, Michelle was, as she puts it, in "full-on-let's-have-a-baby" labor. So she and Paul headed for the hospital. This baby, the couple's first, clearly wanted to meet the excited parents. Michelle's water hadn't broken yet, though, and she still wasn't dialated. All the couple could do was wait.
Turns out, the baby's head was facing the wrong direction for labor.
It was Saturday now, and some patients might have opted for a Cesaerean section when given the news. But the doctors asked Michelle, who hadn't slept since Thursday night, if she was strong enough to push. Really hard.
Silly question.