Simpson finds kindred spirit in caddie
Posted on June 18, 2012 by admin No comments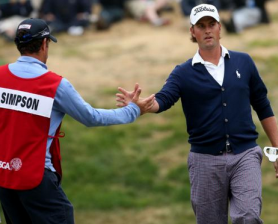 SAN FRANCISCO — At Olympic's par-4 second hole on Sunday, Paul Tesori instructed his boss, Webb Simpson, to not look at the leaderboard.
"If you're 1-over par for the tournament going into 16," Tesori said to Simpson, "and you looked at the leaderboard and all of a sudden you have a 1-shot lead, is it going to add anxiety? Of course it will. Why would you want to add anxiety? It's already anxious enough."
After that, Simpson wouldn't look at a leaderboard again until after he hit his tee shot on 18. At that point he was tied with Jim Furyk for the lead at 1-over par.
"This is the calmest I have ever seen him in contention," Tesori said. "He was way calmer here than he was when he won at Greensboro and in Boston [last year]. He just focused on his faith."
Simpson is a man of deep faith, a faith he shares with Tesori. The 26-year-old former Wake Forest star had scripture written on every page of his Olympic yardage book.
"Webb wanted to have the scripture strong in his mind and heart on the golf course," Tesori said.
In the 17th fairway on Sunday, perhaps in an effort to avoid losing site of his larger life purpose, he tried to put some real perspective on things.
"It doesn't matter if we win 15 tournaments and 15 money lists," Simpson told his caddie. "In 30 years, it's not going to matter because we're going to heaven anyway."
Simpson and Tesori are a special team. Faith, golf and family are the pillars on which they've built their relationship since they began working together in 2011. Tesori, a 40-year-old former PGA Tour player who quit the game in the late '90s after a bout of injuries, had successful runs on the bag with Vijay Singh, Jerry Kelly and Sean O'Hair. He accomplished everything with Singh, except a major. Singh was the first person to call him to offer congratulations on Sunday night. But with Simpson, Tesori found a truly kindred spirit.