Tesori back on Simpson's bag, couldn't be happier
Posted on January 29, 2014 by Kate Fraser No comments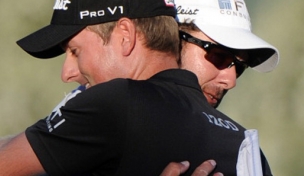 SCOTTSDALE, Ariz. – For the first time this year, Paul Tesori is back caddying for Webb Simpson – and he'll be smiling about it the entire time.
On Jan. 4, Tesori's wife, Michelle, gave birth to a baby boy named Isaiah. There were immediate complications, as Isaiah was placed in the NICU unit at Wolfson Children's Hospital in Jacksonville, Fla., believed to be fighting for his life.
Now, more than three weeks later, the baby has been diagnosed with Down syndrome, but has no other threatening health concerns.
And his proud papa couldn't stop smiling while carrying Simpson's bag around TPC Scottsdale during the Waste Management Phoenix Open pro-am on Wednesday.
"Michelle passed every marker test, so we thought Isaiah was going to be very healthy," Tesori explained. "After he was born, we were like, 'Oh, my gosh. He's fighting for his life. He's fighting for his ability to have a functioning brain and heart.'
"Five days later, and this is just where my faith comes into play, they actually said the seizure never happened, the brain flew past every test – they actually did five tests because they couldn't believe everything was coming back clean; the heart valve was OK. So now we're in a situation where we're like, 'All he has is Down syndrome? Alright, this is great.' It's almost a situation where we're excited he has Down syndrome. I know that sounds weird."
Tesori said Isaiah is already undergoing speech therapy, but is otherwise healthy. That's a far cry from the frightening days following his birth.
Click here to read the rest of this story on GolfChannel.com.