3-21 CLASSIC
Grab your buddies, best clubs and celebrate Down syndrome with us on Monday, Decemeber 4 for the annual 3-21 Classic at The Golf Club at South Hampton in St. Augustine, Florida. Together, we raised more than $37,000 at our 2016 tournament to support our Buddy Basket program serving children with special needs across Northeast Florida.
What's the Concept Behind 3-21?
TFF founder, former PGA TOUR pro and TOUR caddie Paul Tesori, his wife Michelle and their precious miracle baby, Isaiah hosted their inaugural charity golf tournament to raise money for the local Down syndrome community with a unique 3-21 theme on September 21, 2015.
In celebration of an extra (3rd) copy of the 21st chromosome (aka Down syndrome), groups played in threesomes rather than the standard foursomes. And each of the (you guessed it!) 21 threesomes were only allowed 21 clubs total. 3-21. How did each threesome strategize? Which clubs did they share? Who brought which club? What did they do without access to everything you'd "normally" have on the golf course?
This is what kids and adults with Down syndrome conquer every day in our community. Kids just like the Tesori's son Isaiah are excelling in our society because of the tremendous resources available. Through programs such as Buddy Baskets, which provides goodies for ALL members of the incredible local families celebrating the birth of their child with a little extra something in that 21st chromosome, the Tesori Family Foundation hopes to continue expanding resources in support of the Down syndrome community that has become so special to them.
We were so humbled by our community's generosity in support of our second 3-21 Classic. We're inspired to continue serving children and families through our foundation's special needs programs; Buddy Baskets and All-Star Kids Clinic!
We truly enjoyed watching teams strategize with limited "tools" (21 clubs total per team) on the course, similar to challenges kids and adults with Down syndrome overcome daily. After hearing the testimonies of our Buddy Basket families, the room swelled with love and untouchable generosity.
In partnership with our sponsors, local businesses and close friends, the 2016 event raised even more than we could have expected at over $37,000 for our programs serving the special needs community of Northeast Florida and beyond. Looking forward to another successful event in 2017!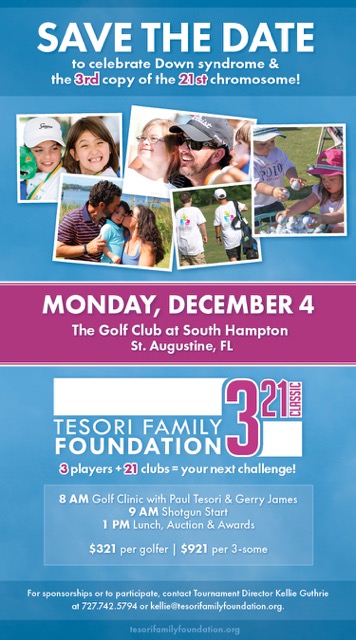 Help us grow each year!
$33,000+ Raised for Special Needs in 2015
$37,000+ Raised for Special Needs in 2016
How many kids will we serve with money raised in 2017?
THANK YOU 2017 SPONSORS AND PARTNERS