ALL-STAR KIDS CLINIC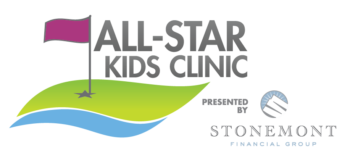 In August 2014, we partnered with Wyndham Rewards, the Wyndham Championship and The First Tee of The Triad to host a golf clinic for kids with special needs with PGA TOUR instruction and demonstrations, along with interactive golf experiences for these wonderful families. In just a few short years, our signature All-Star Kids Clinic has grown to serve more than 200 kids annually in Ponte Vedra Beach, FL, Charlotte, NC, Greensboro, NC, and Jackson, MS, all stops of the PGA TOUR. Our vision to expand the program to serve more at every PGA TOUR stop is now happening!
WHAT STARTED AS A GOAL to have one or two All-Star Kids Clinics has turned into a dream shared by not only the Tesoris, but several tournament directors and the leadership of the PGA TOUR, to ultimately host one clinic in each city served by the PGA TOUR.
Our vision is to create an event impossible to forget that displays the love of Jesus through lifelong memories for everyone involved – from the All-Star VIPS to the hosts, from the coaches to the parents, from the sponsors to the golf course staff – all through the vehicle of golf.
COVID-19 UPDATE
COVID-19 HAS CAUSED a dramatic shift in the way individuals are interacting socially and professionally. We have kept a close eye on the ever-changing landscape of the COVID-19 pandemic. We don't want to put anyone in harm's way therefore we pledge to take extra precautions during all of our clinics.
CHANGES
OUR NEW FORMAT FOR THE ALL-STAR KIDS CLINICS allows for one-on-one coaching alongside the experts in youth golf, The First Tee. The Tesori Family Foundation and local First Tee chapters will partner to provide one-on-one lessons to children with special needs in a safe environment based on individual chapter resources. Our goal for our clinics is to engage the youth locally in each event city as much as possible. Each All-Star will continue to receive special items including goodie bags, shirts and medals and a few surprises from our favorite PGA TOUR players! Our protocols we have put in place include:
Wiping of all equipment between each station switch
Volunteers and coaches are required to wear masks when unable to social distance
Sanitizer and disposable masks will be available onsite
Temperature checks taken at registration table upon entering clinic
Limited number of volunteers onsite
Limited number of family members allowed with participating child
For sponsorship opportunities or further questions, please contact genna@tesorifamilyfoundation,org.
Save
Save
Save
Save
Save
Save
Save
Save
Save
Save
Save
Save
Save
All-Star Kids Clinic Photos
All-Star Kids Clinic Schedule
Wells Fargo Championship – Charlotte, NC
May 3, 2021
Wyndham Championship – Greensboro, NC
August
Northern Trust – Jersey City, NJ
Augusta
Sanderson Farms Championship – Jackson, MS
October
Ponte Vedra Fall Clinic – Ponte Vedra Beach, FL
Fall 2021