ALL-STAR KIDS CLINIC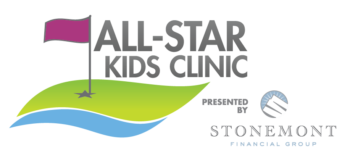 In August 2014, we partnered with Wyndham Rewards, the Wyndham Championship and The First Tee of The Triad to host a golf clinic for kids with special needs with PGA TOUR instruction and demonstrations, along with interactive golf experiences for these wonderful families. In just a few short years, our signature All-Star Kids Clinic has grown to serve more than 200 kids annually in Ponte Vedra Beach, FL, Charlotte, NC, Greensboro, NC, and Jackson, MS, all stops of the PGA TOUR. Our vision to expand the program to serve more at every PGA TOUR stop is now happening!
WHAT STARTED AS A GOAL to have one or two All-Star Kids Clinics has turned into a dream shared by not only the Tesoris, but several tournament directors and the leadership of the PGA TOUR, to ultimately host one clinic in each city served by the PGA TOUR.
Our vision is to create an event impossible to forget that displays the love of Jesus through lifelong memories for everyone involved – from the All-Star VIPS to the hosts, from the coaches to the parents, from the sponsors to the golf course staff – all through the vehicle of golf.
COVID-19 UPDATE
COVID-19 HAS CAUSED a dramatic shift in the way individuals are interacting socially and professionally. We have developed a new plan for the All-Star Kids Clinics for the rest of 2020 to serve those children that are especially vulnerable during this time. We don't want to put anyone in harm's way therefore we devised an alternative plan to make sure we are able to give each child what they deserve – a special one-on-one FUN golf experience.
OVERVIEW
OUR NEW FORMAT FOR THE ALL-STAR KIDS CLINICS allows for one-on-one coaching alongside the experts in youth golf, The First Tee. The Tesori Family Foundation and local First Tee chapters will partner to provide one-on-one lessons to children with special needs in a safe environment based on individual chapter resources. The Foundation will open these lessons up in areas where the PGA TOUR holds tournaments and The First Tee can accommodate our plan. Our goal for the rest of 2020 is to engage the youth locally in each event city as much as possible. Each All-Star will continue to receive special items including goodie bags, shirts and medals and a few surprises from our favorite PGA TOUR players!
The specific format of the lessons will be up to the individual First Tee chapters, who will decide what works best for them, mirroring our All-Star Kids Clinic format. Our recommendation is to take each child through a driving (full swing), chipping and putting style clinic with an addition of some fun activities that only the First Tee can provide!
To ensure success and in line with our All-Star Kids Clinics, this program will be completely free of charge for all VIP All-Star participants.
HOW IT WORKS
Each individual chapter will choose which option works best for them based on their resources. An announcement on which option that location chooses will be happen on social media and our website.
Option 1: The clinic may be held over a two-day span with time slots available for each family to choose from.
Option 2: One-on-one lessons to be set up with a First Tee coach on a day and time that works with both schedules.
Option 3: Clinic will be held over the course of a full day with tee times beginning every 15 minutes to stagger each all-star's arrival time.
Stay tuned for additional information and location announcements on our social media channels and this page.
For sponsorship opportunities or further questions, please contact genna@tesorifamilyfoundation,org.
Save
Save
Save
Save
Save
Save
Save
Save
Save
Save
Save
Save
Save
All-Star Kids Clinic Photos
All-Star Kids Clinic Schedule
The RSM Classic – Sea Island, GA
November
The Waste Management Phoenix Open – Phoenix, AZ
February
The PLAYERS Championship – Ponte Vedra, FL
March
Zurich Classic – New Orleans, LA
April
Valspar Championship – Tampa, FL
April
Wells Fargo Championship – Charlotte, NC
May
3M Open – Blaine, MN
July
Fedex/St. Jude Invitational – Memphis, TN
August
Wyndham Championship – Greensboro, NC
August
Northern Trust – Jersey City, NJ
Augusta
BMW Championship – Owings Mills, MD
August
Sanderson Farms Championship – Jackson, MS
October
Ponte Vedra Fall Clinic – Ponte Vedra Beach, FL
Fall 2021
Augusta Clinic – Augusta, GA
Fall 2021