3-month-old Isaiah Tesori's inspiring journey to Augusta
Posted on April 10, 2014 by Kate Fraser No comments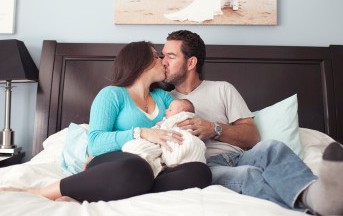 By Dan Wetzel April 10, 2014 Yahoo Sports
AUGUSTA, Ga. – Michelle Tesori was in the delivery room when a nurse snatched her son Isaiah, less than a minute old and already mid-seizure, off her chest. In a blink, a team of stern-faced doctors surrounded the
tiny child and then immediately whisked him out of the room.
Soon Michelle and her husband Paul listened in stunned silence as a doctor explained the dire stakes and offered a list of potential reasons that Isaiah's brief life was in significant jeopardy.
"Blood on the brain … brain virus …" Michelle recalled through tears Thursday, reciting a laundry list of parental nightmare terms, each more chilling than the last.
Isaiah was headed to a new hospital, the doctor said, across Jacksonville, Fla., to Wolfson Children's Hospital, where the Neonatal Intensive Care Unit might be able to save him. First, they quickly wheeled Isaiah, laying in an incubator, back to his parents. Through a finger-sized hole in the side, Michelle was able to reach in and touch him.
Then he was off, out the door, with no promises, just prayers.
That was three months ago this week.
---
Paul and Michelle Tesori were always going to get their son Isaiah here to Augusta National – here to the Masters.
Paul is a caddie for Webb Simpson. He used to work for Vijay Singh. Michelle runs a company that operates non-profits for athletes. They are a golf family first though, so much of their life revolving around Paul's schedule
Sometimes on the PGA Tour it seems like all roads lead here, or start here, the first major championship of the season – the most hallowed grounds in the game where no matter how many times you've been, you appreciate getting to return.
This wasn't just a special place in the general way; it was a special place for them.