ALL-STAR KIDS CLINIC
2022 All-Star Kids Clinic presented by The PLAYERS Championship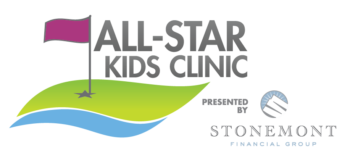 In August 2014, we partnered with Wyndham Rewards, the Wyndham Championship and The First Tee of The Triad to host a golf clinic for kids with special needs with PGA TOUR instruction and demonstrations, along with interactive golf experiences for these wonderful families. In just a few short years, our signature All-Star Kids Clinic has grown to serve more than 200 kids annually in Ponte Vedra Beach, FL, Charlotte, NC, Greensboro, NC, and Jackson, MS, all stops of the PGA TOUR. Our vision to expand the program to serve more at every PGA TOUR stop is now happening!
WHAT STARTED AS A GOAL to have one or two All-Star Kids Clinics has turned into a dream shared by not only the Tesoris, but several tournament directors and the leadership of the PGA TOUR, to ultimately host one clinic in each city served by the PGA TOUR.
Our vision is to create an event impossible to forget that displays the love of Jesus through lifelong memories for everyone involved – from the All-Star VIPS to the hosts, from the coaches to the parents, from the sponsors to the golf course staff – all through the vehicle of golf.
For sponsorship opportunities or further questions, please contact genna@tesorifamilyfoundation,org.
Save
Save
Save
Save
Save
Save
Save
Save
Save
Save
Save
Save
Save
All-Star Kids Clinic Photos
All-Star Kids Clinic Schedule
2022
Charlotte, NC
September 16, 2022
Sanderson Farms Championship – Jackson, MS
September 27, 2022
TPC Sawgrass – Ponte Vedra Beach, FL
October 12, 2022