How PGA Tour Caddie Paul Tesori Brings God Into Golf
Posted on April 18, 2018 by Genna Lancaster No comments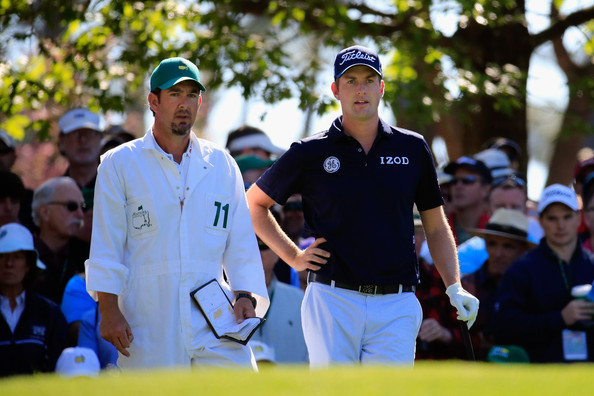 Paul Tesori's faith life started out like most of ours. He grew up in a household of believers going to church regularly. When it was time for him to go off to college at the University of Florida, where he would become a three-time All-American and member of the 1993 golf championship team, Paul readily admits he lost his focus on Christianity. "I chased girls, drank too much, and wasn't following Jesus."
After graduating, Paul got married, started going back to church, and even began tithing. All the boxes were checked.
"I would have told anyone back then that asked that I believed in Jesus," he admits. "I was doing all the right things. But looking back on it, I didn't come to know and believe in Jesus until several years later."
At the time, Paul was carrying the bag for Vijay Singh, one of the best golfers in the world. His professional caddie career was at an all time high. But his personal life was deteriorating. In 2004 Paul divorced, and after several years of broken relationships and broken promises to others and himself, he knew something had to give.
"I was broken. I kept wondering, 'What am I doing? What is wrong?' Professionally, I was at the top of my game. But I felt empty."
A house built on sand
In 2010, after coming to the realization that something in his life had to change, Paul decided to get baptized. Five months later he was fired from his job for the first time in his life. At the same time, the real estate market crashed and Paul lost everything he had earned from his golf career. He was dating his now wife, but they broke off their engagement at the time due to the stress of the crushing realities around them.
"This was not what I expected to happen to my life right after getting baptized. When I was fired, I was totally shocked. But looking back at it, it's what I totally needed. Jesus was stripping me of everything I had been relying on, all the worldly things I was focusing on. He was taking them away."
It was that year Paul says he truly became a believer. "I started being obedient to the Lord, reading the word, and loving my neighbors." And for the first time that December, he stood in front of his church to give his testimony and tell them,
"I stand before you jobless, homeless, relationship-less, but I have more peace than I ever have had, peace I can't explain."
One week later, Paul was faced with a major career decision. He had job offers from two golfers, both ranked in the top 10 in the world. Paul explained being uneasy with the decision, having a hard time settling with one or the other. Then 30 minutes before he was going to make a call to accept the job offer, the phone rang and pro golfer Webb Simpson was on the other end.
"At the time Webb was 213th in the world. The whole time I was on the phone with him, my wife was Googling his name just to find out more about him. The only thing I knew about him was he was a believer. Webb explained to me that he knew Jesus had given him this major platform to get His name out to the world. Five minutes into our conversation, I said, 'I'm in."
Within the first year they worked together, Webb made all the goals Paul had set for him twice over. Paul admits, "It was scary to take on someone so new and inexperienced. He was quite green, but Webb became amazing."
A big brother in faith
On the courses, Webb Simpson has a strong reputation as a Christian. People describe him as a believer first, a golfer second. Paul explained, "People always wanted to be paired with Webb because he was kind, easy to work with." He had character.
Paul backed this up by telling a story of an argument they got into during the 2012 U.S. Open. Paul missed the first day of practice due to flight delays. Something Webb seemed to respond to with little patience. "When I arrived in California, Webb was unkind, not understanding, very un-Webb like. I wasn't sure how this argument was going to affect the tournament, our relationship."
The next day, Paul knew Webb would be willing to sit and talk it over. With tears rolling down his face, Webb explained that he had missed his son's first steps the day before their argument to be at the U.S. Open. "That's the kind of guy Webber is. You can always talk deeper with him, find out what's really going on and work together to move forward."
After getting back on track with Paul and coming to peace with the situation, as Webb stood on the 71st hole tied for the lead he turned back and said to Paul, "If we win, this will all go away, but we'll have eternity forever." Webb would win the U.S. Open that year.
Paul describes Webb as a biblical leader, in the household and at the job. They pray together once a day. Paul continued, "The Lord is always on our mind, He's always what we're talking about."
While the player/caddie bond is strong to begin with, it seems Webb and Paul have an even deeper one built with shared faith. "He's become one of my best friends. He's my little brother when it comes to golf, and I'm his little brother when it comes to faith, marriage, and church."
Taking faith to work
Paul admits that he used to struggle with talking about his faith, feeling like he was forcing his story onto non-believers, and writing-off people as soon as he labeled them "non-Christian."
"I was given great advice to build relationships first. If you are loving and acting different, questions will come up and opportunities will arise to talk about faith from there. People will want to know more."
And he gives non-verbal hints as well. "I always have my bible and wear my cross bracelet. I don't have to speak it. It's just there."
Whether at home or on the road, Paul is always digging into the Bible. Thirty years ago, PGA Tour Chaplain Larry Moody started a Tour Bible Study that has stayed intact. During golf tournaments all over the country, the College Golf Fellowship helps coordinate bible studies one night a week so players have an opportunity to study together with familiar and new faces. Their traveling mentors will go wherever the players are, making sure the groups are available. Bubba Watson, Webb Simpson, and Paul make sure not to miss them. 
Advice for others 
In a work environment, starting with small actions to show your faith can go a long way. Paul's advice –
"Try to look into the mirror first. Ask yourself, am I personally gossiping at work? Can you stop the gossip or not take part in it, walk away? Watch your language. Are you using profanity, sexual undertones? Also, are you encouraging your coworkers? Are you jealous or envious of them? Or are you celebrating them?
"I always tell people,
Read the word.
Pray His word.
Love others.
"In the workplace, be yourself, as long as you're holding yourself up to Jesus. In golf, there's always going to be "locker room" talk about money and women. I just stay away from it. I don't put myself into those situations. And by doing that, people know I'm a believer."
At the heart of it all
For Paul, work has become all about a means to give. And one of the major ways he and his family work to love their neighbors and impact their community is through the Tesori Family Foundation.
In January 2014, Paul and his wife, Michelle, welcomed their son Isaiah into the world. After a very traumatic first few hours and several tests later, it was determined Isaiah had Down Syndrome. The intense love for their son combined with the treatment they received at a local hospital while Isaiah was in the intensive care unit lit a fire in the Tesori Family Foundation.
Founded in 2009, the couple used the foundation as a way to give back to the less fortunate in different ways. But it wasn't until Isaiah was born that the work of the foundation found it's purpose and passion. Today, the work flourishes through six full programs helping kids with special needs and they families.
When speaking about Isaiah, Paul referenced John 9:1-3, "As Jesus was walking along, he saw a man who had been blind from birth. 'Rabbi,' his disciples asked him, 'why was this man born blind? Was it because of his own sins or his parents' sins?' 'It was not because of his sins or his parents' sins,' Jesus answered. 'This happened so the power of God could be seen in him.'"
He explained that these verses have taken on a whole new meaning to him as he watches Isaiah, the love he has taught his family, and the work they've been able to do because of him. Paul continued, "If Jesus were to come down right now and tell me he'd take that extra chromosome away from my son, I'd say no! Isaiah has taught me more about joy and Jesus in his four years with us than my first 42."
It's clear Paul has been through work and personal hardships. His knowledge and relationship with Jesus is one to admire. His parting advice, "There's no substitute for reading the word. It's taught me that there will always be ups and downs. But with Jesus they will look a lot more like ripples than a title wave."