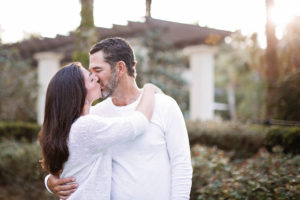 Growing up over 1,000 miles apart, Michelle and I shared a passion for giving back long before we ever met. As great as that passion is, our passion for Jesus is even greater. In 2009 we formally established the Tesori Family Foundation to share the love and grace we've received from God to the people in our community in need. After much prayer, we determined that the best use of our resources would be to strive daily through the foundation to achieve one unified mission: to achieve great things for God by lending a helping hand, providing hope and healing hearts for children.
In its first several years, our foundation gave back to causes and charities that were near and dear to our hearts, including those that served the homeless community, particularly those that served children, our local seniors community and agencies that serve and protect our pets. Our charitable giving was primarily focused here in my hometown area of St. Augustine/Jacksonville, FL, but we felt God calling us to do more. Much more. We just didn't know what or how. But God did.
On January 4th, 2014, our son Isaiah was born. While his entrance to the world wasn't quite what we expected, and at times we weren't sure how long God was going to let us borrow precious Isaiah here on earth, his arrival glorified God's perfect plan. After a much shorter-than-expected stay in the Neonatal Intensive Care Unit (NICU) that defied all odds, our sweet baby boy was diagnosed with Down syndrome (an extra copy of the 21st chromosome) and joined a very excited Mommy, Daddy, big sister and puppy at home. Isaiah's birth story was picked up by our friends at the Golf Channel as well as CBS and shared with the world, and what we've been witness to over the past few years is just how many lives God has touched through Isaiah's story.
In the first days and weeks of Isaiah's arrival, Michelle and I felt the Holy Spirit clearly at work in our hearts. There was no longer any wonder about what or how we would give back more. In particular, I kept coming back to the same verse over and over again. It's in John 9. Jesus is walking down the road with his disciples and he sees a blind man. The disciples ask him what caused this man to be blind. They're looking for a CAUSE. They go so far as to ask Jesus, "Rabbi, who sinned, this man or his parents, that he was born blind?" (John 9:2). But that's not how Jesus answers. Jesus doesn't tell the disciples WHY this man is blind, or HOW he became blind. Instead, he replies with the PURPOSE.
Jesus answered, "It was not that this man sinned, or his parents, but that the works of God might be displayed in him.
~ John 9:3

We knew the purpose for Isaiah's diagnosis. It was so clear to us. We are to use this diagnosis and our journey through it, with it, to glorify God. Our foundation expanded its existing programs with some extra programming designed to specifically benefit the special needs community. We will surpass 40 All-Star Kids Clinic this summer, a golf clinic for kids with special needs, which will expand here to include our first Korn Ferry Tour partnership this fall in Nashville. In February, we partnered for the ninth year (forced to take 2021 off for COVID) with former Gator & NFL quarterback Tim Tebow and his foundation to sponsor Night to Shine, an incredible prom night experience held in over 650 locations in more than 40 countries all over the world for kids and adults with special needs. And let's not forget our flagship Buddy Baskets program, designed to help new moms and dads (and siblings!) of kiddos with a Down syndrome diagnosis CELEBRATE the birth of their new addition.
We couldn't be happier God asked us to walk this journey. We've met the most incredible people along the way, and we've only just begun. We hope you'll consider joining us, whether it be through prayer, through volunteering your time or through financial support, to help us achieve our mission.
Blessings and our endless thanks,
Paul Tesori
Tesori Family Foundation
Meet Isaiah