ALL-STAR KIDS CLINIC
In August 2014, our family foundation partnered with Wyndham Worldwide, the Wyndham Championship and The First Tee of the Triad to host the first of its kind, All-Star Kids Clinic. The clinic was held at the Grandover Resort, hosting 25 children with special needs. To our pleasant surprise, the event proved to be an afternoon filled with smiles, laughter, and joy as we were joined by several PGA TOUR players and caddies who, even without an invitation, volunteered to help on this special day. At the conclusion of the event, multiple PGA TOUR players asked how they could be involved at future events and bring the clinic to their hometown. The All-Star Clinic has since grown to collectively serve more than 125 kids with special needs in Greensboro, NC and Ponte Vedra Beach, FL in just 3 years!
Our vision to expand the program to serve more PGA TOUR host cities became a reality in 2016 after brining the ASKC to our hometown in Ponte Vedra Beach, FL. The community loved it so much, the clinic returned in 2017 with a day filled with joy and laughter at Sawgrass Country Club alongside longtime PGA TOUR caddie Paul Tesori, special guest Jordan Spieth and coaches from The First Tee of North Florida.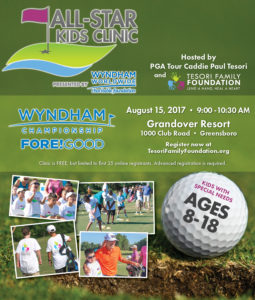 We'll join our friends at the Wyndham Championship on Tuesday, August 15 for the third annual All-Star Kids Clinic presented by Wyndham Worldwide Charitable Foundation at the Grandover Resort in Greensboro, NC. 25 kids with special needs will receive one-on-one coaching from The First Tee of The Triad and a very special PGA TOUR guest of Paul's.
Contact Kellie Guthrie at Kellie@tesorifamilyfoundation.org for sponsorship opportunities or additional ways to get involved. No donation is too small.
Save
Save
Save
Save
Save
Save
Save
Save
Save
2017 ASKC
Ponte Vedra Beach
2016 ASKC
Ponte Vedra Beach
2017 Schedule 
Ponte Vedra Beach, FL
during THE PLAYERS Championship
May 10, 2017
Greensboro, NC
Wyndham Championship
August 15, 2017