All-Stars shine in Greensboro
Posted on August 30, 2016 by admin No comments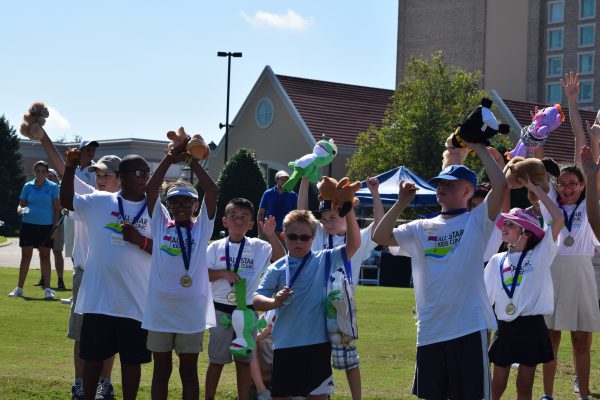 August is coming to a close and what a busy month it was. It's amazing how fast time goes by when you have golf tournaments and events. It's an especially busy time of year for Team Simpson, and with the addition of the Olympics and the adjustments to the schedule, it was even busier this year than ever before for all our PGA TOUR friends. Here comes a brief update:
Golf wise, we started to gain some momentum a few months back but failed to push through with any great weeks. Webb had his 2nd best finish in a Major (anyone remember what his best Major finish was?) by finishing T13 at the PGA Championship at Baltusrol. The putter has still been the major hurdle. We both feel that we are getting closer to where we need to putt to contend on a weekly basis. Staying patient is so hard when you know you're playing well. God is faithful and we will keep fighting hard and working harder.
Foundation wise, just last week we had our favorite event in Greensboro for the third time. The All-Star Kids Clinic (ASKC), our golf clinic for kids with special needs, was a huge success. We had nearly 30 kids ages 8-18 come out and brave the heat and beat the rain. The smiles and laughs were priceless. Billy Horschel came out to do the clinic with me and the kids loved him. Our friend DJ Gregory (Walking for Kids Foundation) joined us, as well as PGA TOUR caddies Micah Fugitt and Pepsi Hale. So thankful to have the support of these guys. The ASKC continues to inspire us and others much more than the inspiration the kids receive. We owe the kids our appreciation for these opportunities, not the other way around!
One last note: our Tesori Family Foundation 3-21 Classic Golf Tournament http://tesorifamilyfoundation.org/3-21-classic/  is coming up in November! It's that crazy cool format celebrating the 3rd copy of the 21st chromosome, the happiest chromosome on earth (Down syndrome). We play in 3-somes and each team only gets 21 clubs! Just like our kiddos with Down syndrome do every day, they strategize and work to figure out how to make it around the links with less that what they'd "typically" have. We love it. All the money raised will go back to our foundation programs that support kiddos with Down syndrome, specifically our Buddy Baskets http://tesorifamilyfoundation.kappkoncepts.com/programs/buddy-baskets/  program that we love so much. I think we might only have 2 or 3 threesomes left so if you want to participate by playing, sponsoring or donating something cool to our golfer gift bags or the silent auction, please contact Kate Fraser at kate@tesorifamilyfoundation.org.
Thanks again for cheering on Team Simpson and for your ongoing support of the foundation. I've gotta get back to work so that I can rack up those miles for A Mile In My Shoes! http://tesorifamilyfoundation.kappkoncepts.com/inside-the-ropes/a-mile-in-my-shoes/
Psalm 16:11