By Jim McCabe, GolfWeek, May 12th, 2016
PONTE VEDRA BEACH, Fla. — Before taking on the challenge of The Players Championship, Jordan Spieth slipped seamlessly into the role of The Championship Person.
Dare we say he might be better at that than he is in golf? Who knows, but clearly Spieth has an uncanny knack for doing the right thing, for which he nonchalantly brushes aside any praise.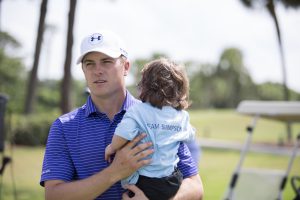 "Whatever I can do," he told a small gathering of folks at Sawgrass Country Club late Wednesday afternoon. "I know it's a very small world, that it's a very tight-knit world."
He was telling parents and friends why he had accepted an invitation to stop by and visit with a group of special-needs children on behalf of the Tesori Family Foundation and in particular Isaiah Tesori.
He's the 2-year-old son of veteran PGA Tour caddie Paul Tesori and his wife Michelle, and if anyone knows the joy that Isaiah will provide, it's Spieth. His younger sister, Ellie, was born with a neurological disorder on the autism spectrum. Witnesses to the interaction between Jordan and Ellie wouldn't hesitate to say the image far outshines anything involving the green jacket or U.S. Open trophy that Spieth won last year during a five-victory season.
Yet as Spieth spoke to parents and friends of these special-needs children, he shined the spotlight on the host, Tesori. "He's a great man and a great role model for me," Spieth said.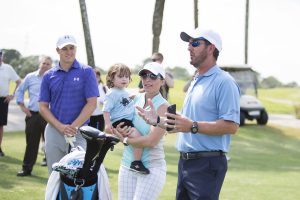 There is much to admire about Tesori, chiefly this: He started a foundation in 2010 to help those in need, such as 20 homeless children who eventually were provided opportunities to have laptops and educational opportunities. Four years later, as fate would have it, Tesori and his wife would be a couple in need of a foundation's help because their son was born with Down syndrome.
Strong of faith, Paul Tesori remembers those anxious days and nights as Isaiah battled just to stay alive. That he made it was the great news. That "he had an extra chromosome" didn't faze the Tesoris. They embraced the opportunity to be parents to such an affectionate and loving child.
And Spieth clearly appreciates the situation. Though it was admirable to see him attend the Wednesday gathering that was coordinated by The First Tee of Jacksonville, Tesori said that he truthfully expected the reigning Player of the Year to be there. "It's the type of guy he is," Tesori said.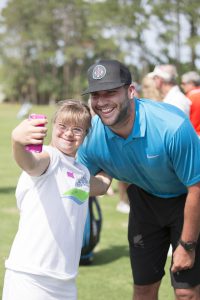 What Paul and Michelle didn't expect was a visit, too, by Jacksonville Jaguars quarterback Blake Bortles. "We didn't ask him; he asked us if he could come, and we said sure," Tesori said. "It fires me up."
Spieth spoke to the children, then hit some golf balls and lined up for photographs. The entire time, the two-time major winner looked comfortable; he appeared to sense what the children wanted of him and showed great patience. Soon, the highlight of the day for the children arrived — the chance to hit balls on the range or roll putts on the practice green — so Spieth mingled with a few parents, talked to a local TV reporter, then made his way to his car. He had a golf tournament for which to prepare.
It was a short visit, yes, but it had a lasting impression. "He didn't have to do this," Tesori said, "but it's the type of person he is. It was really, really cool of him. It means a lot to us."
Somehow, you get the feeling that it meant a lot to Spieth, too.